I participated in the third Brighton Mini Maker Faire – the "Interactive Festival of Creativity and Invention", 7th September 2013 at the Corn Exchange – showcasing the latest iteration of my Augmented Tonoscope instrument and offering a Cymatics Workshop.
"For those who haven't been before, Brighton Mini Maker Faire brings together makers of all kinds – from arts and crafts, to technology, engineering and electronics, to DIY, woodworking and metalworking – to demonstrate and share their craft, and allow visitors to have a go at making something themselves. We always try to create an event with as much diversity and breadth as possible, so that everyone who attends can find something to delight and inspire them."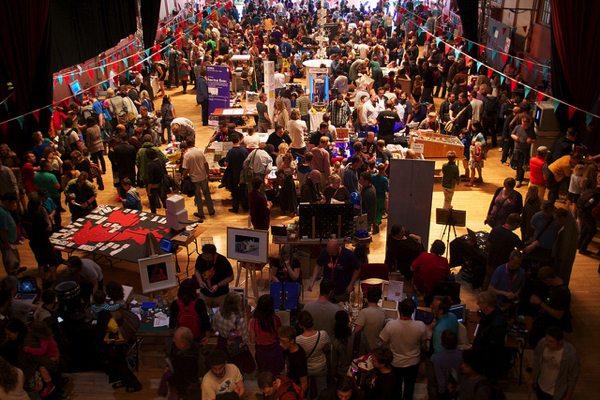 Saturday Maker
Project Summary
The Augmented Tonoscope is a new hybrid analogue/digital audiovisualisation instrument. It makes sound 'visible' as physical patterns on the surface of it's drum-skin, but also augments them with real-time computer animations generated from mathematically derived virtual models of various oscillating and harmonic systems.
Project Detail
Through my PhD research I've been designing, fabricating and crafting a new audiovisualisation instrument – a hybrid analogue/digital device that produces real-time Visual Music. Sound is 'made visible' on the surface of its drum-skin as the modal wave patterns of Cymatics (Greek: κῦμα "wave") – a term coined by Dr Hans Jenny who studied this phenomenon in the 60s and 70s using a device of his own design – the ʻtonoscope'. Essentially what you see are discreet, geometric patterns that are an analog of sound in visual form. I've extended Jenny's experiments by augmenting his analogue device, superimposing the outputs of a family of simulated models on top of the analog output – such as a virtual drum-skin and an adaptation of seminal computer-aided animator John Whitney Sr.'s 'Rose of Grandii' algorithm – all of which explore notions of vibration and harmonic relationships between sound and moving image. These have been realised in openFrameworks – the open-source, creative coding C++ toolkit.
Sunday Workshop
Cymatics Workshop @ BMMF 13
Sunday, 8th September, 10am-1pm
Lewis Sykes
£15
When physical matter is vibrated with sound it adopts geometric formations that are an analog of sound in visual form. The effect has been noted for centuries and is described through Cymatics (from the Greek: κῦμα "wave") – the study of visible stationary wave patterns induced by sound. Dr Hans Jenny coined this term for his seminal research in this area in the 60s and 70s, using a device of his own design – the ʻtonoscope'.
Featured on TV shows such as The Big Bang Theory and QI, Cymatics is relatively widely known. Check out YouTube for the many videos of 'table-top' experiments where folk have hooked up a speaker to a tone generator and amplifier and made things vibrate. This Sunday morning workshop does much the same, introducing you to the various equipment, materials and techniques – all easily accessible and easy to configure – that will allow you to explore Cymatics for yourself.
We'll supply and introduce you to a range of speakers and transducers; and mediums from non-newtonian liquids such as corn starch in water to fluids such as glycerol, oils and alcohol and solids such as fine glass and decorative beads and polystyrene bean bag filler – all which you can use to generate different Cymatic patterns. We'll also provide components and materials such as metal and silicon dishes, acrylic disks and latex rubber to help you construct various types of Cymatic devices.
We'd like to you to bring along your own old speakers and amplifiers and turn your iOS and Android smartphones into flexible tone generators using cheap apps such as Signal Generator (69p at the Apple App Store).
By the end of the workshop we'll have constructed an array of different Cymatic devices which we can activate en mass to make the Corn Exchange wobble.
I initially proposed a Saturday evening performance too… but wasn't quite ready on the night so withdrew gracefully…
---
Rowan Stanfield, who ran the comms and social media for Brighton Mini Maker Faire asked if I'd answer some questions about my project and workshop that they could feature on their blog in the week leading up to the event. These feature on the BMMF website, but I'm reproducing them here too.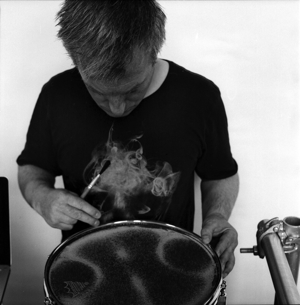 What kind of maker are you?
I'm a media artist and musician, currently in the final year of a PhD at Manchester Met. I make physical artworks and instruments that explore the relationship between sound and vision.
When, why and how did you start making?
Up until 2008 I'd mostly been an audiovisual composer and performer – though I'd configured my own performance systems using commercial hardware and software and integrated a few additional sensors into my setup. I started to make seriously as Monomatic with Nick Rothwell when we won a commission for an interactive installation for Sound and Music's Expo 2009 Festival in Leeds. We designed and built PEAL – a digital, laser-controlled installation which models a traditional English church bell tower.
What project or workshop are you bringing to this year's Faire?
Various components from my PhD project, The Augmented Tonoscope. It's a modular audiovisual instrument for creating real-time audiovisuals – mixing analogue and digital outputs together to explore how sound can combine and interplay with moving image to create a close connection between what you hear and what you see.
Have you been to a Maker Faire before, and if so, what was it like?
I was a BMMF last year and thoroughly enjoyed it. Really well organised, a great vibe and lots of interesting projects. I've also shown past work at the Maker Faire in Newcastle in March 2012 and the Manchester Mini Maker Faire in August 12.
What can people do at your stall/workshop? How can they get involved?
For the Faire I'll be bringing along various components of my instrument which people can see in action and have a go at playing with themselves. I use a monome – a controller with a grid of 64 buttons – to trigger musical notes which are then visualised as geometric patterns on the surface of my device's  drum-skin and as computer animations on a monitor. For my 'Cymatics – the Science of Sound' workshop I'll be introducing folk to the various equipment, materials and techniques – all easily accessible and easy to configure – that will allow them to explore Cymatics  – the study of visible sound – for themselves.
What is the main thing you'd like people to learn from you at Maker Faire?
That making is a natural part of trying to realise creative ideas – and that the tools, techniques and knowledge you need are freely available. I integrate making into my PhD research, but it's appropriate for all levels and a great way for anyone to explore and play and share what they do with others.
Is it something they will be able to keep doing at home afterwards?
For sure. By the end of my workshop participants will have constructed different Cymatic devices – ideally using their own old speakers, amplifiers and smart phones – which they can continue to play with back home on their own kitchen tables.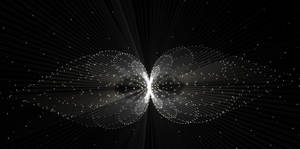 What's the most interesting or surprising thing about your make?
The patterns that form on the drum-skin surface of my device are the result of a natural phenomenon that is usually hidden from view. It is sound in visual form. Hopefully this goes some way to capture the imagination and inspire a sense of awe and wonder in the world around us.
What other makers have inspired you?
One of my first Arduino projects was a basic synthesiser – the Auduino (http://code.google.com/p/tinkerit/wiki/Auduino) – originally designed by folk at Tinker – a multi-disciplinary design studio based in London. I really liked the way this simple starting point turned into a community of Auduino makers who each customised the device evolving the design of the project and sharing these tweaks back with the community. I'm also inspired by and indebted to Mike Cook (http://www.thebox.myzen.co.uk/Site/Welcome.html) – Grumpy Mike as he's monikered on the Arduino forum – who shares his expert electrical engineering and fabrication knowledge and skills so generously.
Can the maker culture change the world?
In small but I think potentially significant ways. Becoming a maker shifts your perspective from consumer to producer – and that's got to be worthwhile. If more people share their ideas, knowledge and skills freely we'll all have more solutions to creative problems. I also think making has real potential for creating viable alternative micro-economies – monome.org is a great example of this – a creative product that attracts an active community of users who help support and shape future development.
What are you most looking forward to about the Faire?
The vibe, the crowds, the really interesting conversations, the unexpected 😉 And to performing at the After Dark event – it's been a little while since I've been on stage.
Where/how can people find out more about you?
My various websites (although they're all in need of updating – sorry):
My online PhD journal: http://www.augmentedtonoscope.net
My PhD digital sketchbook: http://augmentedtonoscope.tumblr.com
Monomatic, my current art collaboration: http://www.monomatic.net
Is there anything else we need to know?
I make quite a bit of noise and vibrate things… hope BMMF folk have twigged that 😉