My Ph.D. thesis – The Augmented Tonoscope: Towards a Deeper Understanding of the Interplay between Sound and Image in Visual Music – and downloadable disk image of the accompanying hybrid DVD.
The culmination of four years of self-directed Practice as Research postgraduate study, this is the final version of my thesis submitted in partial fulfilment of the requirements of the Manchester Metropolitan University for the degree of Doctor of Philosophy. 
Download as PDF (17.5MB) from my public WebDisk or read on via Scribd…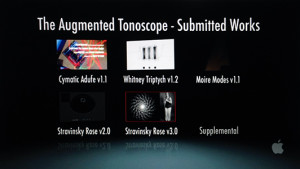 The accompanying hybrid DVD provides a 'double-page spread' PDF version of the thesis along with standard DVD format documentation of the associated artworks and supplemental video illustrating their development. However, high definition versions of these videos are also provided within a 'The Augmented Tonoscope DVD-ROM Contents' folder on the disk accessible through the 'Finder' of OS X. This folder also contains software sketches and patches which have been realised in creating the works. They are not intended to be working examples, rather they provide additional evidence, akin to a storyboard or musical score, of the development of the associated works.
A disk image (7.1GB) of the hybrid DVD is available for download. Like all aspects of my research detailed via this online journal it is freely available – although it does require your name, email and a short message to activate the download link. I'm simply curious as to whom might be interested in my research and why. The worst that can happen is that you'll receive an occasional email from me about my future research, writing and artistic projects. Complete the form below and "Send" and the download link – along with a confirmatory "Your message was sent successfully. Thanks." will then appear below.